Attract a steady flow of new patients.
Dominate the search results, engage your ideal patients and be the practice of choice in your local area.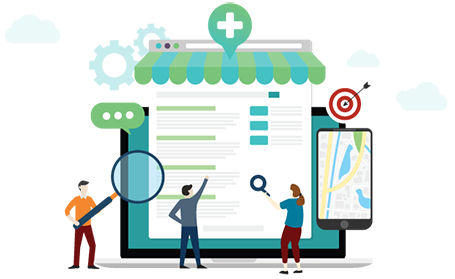 You've heard the bad stories. The online marketing industry, and particularly SEO, gets a bad rap. It's often described as a dark art or sorcery, full of so-called strategies that don't actually help you achieve your goals. 
That's not the way we do it.
Local MD connects you with a trusted, experienced local marketing team.  We provide proven, best practice online local marketing services with the Guidelines for Advertising a Regulated Health Service (developed by AHPRA and National Boards) front of mind. 
Marketing Treatment Plans
Do you avoid getting the help you need because of the worry of being locked into an ongoing contract that might not actually deliver on its promises?
If this is you, we understand. The bad news is you're missing out on the benefits of fixing the issues with your digital marketing, leaving you back where you started: not achieving the goals you desire that result from having a strong online presence.
Local MD prescribes your medical marketing treatment plan, yet gives you control over how it's delivered - so you can stay in control of your marketing budget. 
Healthcare Marketing made simple
You asked and we've delivered.
You want to know exactly what you're getting at what cost, and the likely results of your investment. 
You want a website partner that: 
Is easy to work with
Trustworthy
Offers clear outcomes
Provides consistent communication
Gives you peace of mind.
LOCAL MD COLLABORATES WITH:
Get your online presence sorted.
We're fully invested in seeing you succeed and providing you with an exceptional level of care, just as you give your patients.