Speed up your website for more satisfied patients and a better shot at SEO success.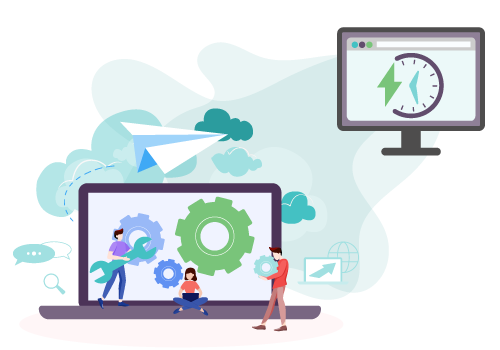 Is your website running slow?
A website's loading time is not a vanity metric. The slower your site, the lower your website tends to rank. 
When website pages take a long time to load, your website's bounce rate will increase. Bounce rate is a metric that indicates to Google whether or not your website visitors find your page content useful. The lower your bounce rate the better. If less people follow through with viewing your page (because they get fed up with waiting and go back to the search results) this increases your bounce rate.
A high bounce rate tells search engines that users don't find the page content useful, so your Google rankings will drop.  
Website Speed Help
Our Website Speed experts will improve your overall website speed score, reducing patient frustration and giving you a Google advantage.
1 in 4 visitors will leave a website if it takes more than 4 seconds to load.  Local MD can help provide your patients with a faster website experience by improving your website speed.
Google has confirmed that website speed is a ranking signal. So not only will you have happier patients, Google will like your website more, and this will help to rank you higher in the search engine results.
There are many factors that can impact how fast your website runs.
Things like:
Quality and location of your website hosting
Platform or builder that has been used to create your website
The type of software, theme, or plugins you install on your website
The way you use video and images on your website
LocalMD can help fix your webpage speed troubles, so your website stops deterring new patients.
Website Speed - The Statistics
1 in 4 visitors will abandon a website if it takes more than 4 seconds to load.
46% of users won't revisit your website if it performs poorly
Website load time is a confirmed Google ranking signal. So it's important to speed up your pages for a better shot at SEO success.
Website speed is a combination of factors, such as
The quality and location of your website host
If you have a content delivery network (CDN) 
The platform your website is built on (e.g. WordPress, Squarespace, Wix, Webflow) 
If you have WordPress, the theme and plugins you install can impact your website speed
The size of your videos and images
All of these can help or hinder your website speed. 
1 in 4 visitors will leave a website if it takes more than 4 seconds to load. That equals 25% of patients getting frustrated with your website before they've even opened it. 
Ready to make your site faster?