Dermatology Digital Marketing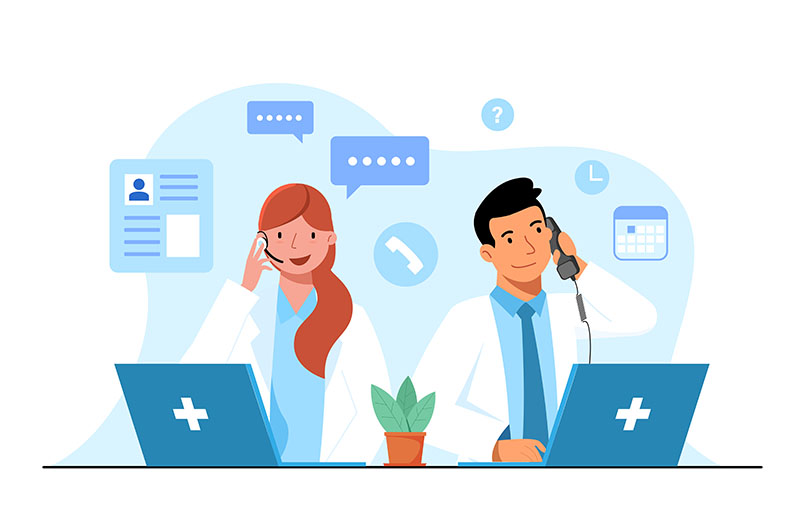 When your dermatology patients don't come knocking as often as you hope, the biggest factor you should look into is digital marketing.
Weeks with only a handful of bookings, a downward trend when it comes to the number of appointments booked. After all, even the most skilled dermatologists might not get their desired amount of clients-- especially without first knowing how to market their practice.
Of course, digital marketing and dermatology are vastly different subjects. To make them work hand-in-hand, however, can result in huge value for any dermatology practice.
Why Dermatology Marketing?
While dermatology marketing is generally used to widen reach and to make potential patients aware of your services, there are reasons beyond this that encourage dermatologists to remain engaged in formulating marketing plans and strategies for their practice.
1. Helps attract the patients you want to work with the most
As you are aware, dermatology is a wide field, covering a variety of treatments for the most serious skin problems to aesthetic procedures. This range sometimes proves too wide for practitioners who want to specialise in particular issues and cases. Thankfully, targeted marketing can help attract potential patients experiencing the concerns you want to focus on.
2. Sets your practice apart from the rest of the competition.
Of course, your clinic is not the only dermatology clinic in town. Proper marketing would be able to make your offerings stand out from the rest, letting your potential patients know the niche services your practice offers. After all, dermatology patients tend to be quite sensitive to the quality of patient care and procedures when it comes to skin and aesthetic care.
3. Markets your business to potential referrers and partners.
Attracting professional referrers, such as physicians and other medical practitioners, prove valuable in the long run, as when it comes to dermatology, potential patients tend to put trust in a reliable referral.
How can you level up your dermatology marketing?
Now that you know the reasons why marketing can potentially help a lot of dermatologists achieve their professional goals, you must be wondering: what are the steps you can follow to establish and level up your dermatology practice marketing plan?
Set specific goals for your dermatology practice.
Setting unique goals is the first step of many when it comes to marketing. An example of a goal could be: to attract customers interested in laser services such that they make up around 50% of the total patients. Or, to solely focus on treating acne and related skin problems, for example.
No matter which path you take with your goals, when all these goals add up, they create a vision of what you want your practice to look like in the future. Not only that, these unique goals can also be used to shape your brand even further.
You must have a target market in mind when it comes to crafting your marketing strategy. Understanding the needs and demands of people in the area you are servicing can help you push for better and more tailor-made services.
Create a solid brand strategy and PR plan.
Every truly successful marketing campaign is driven by a solid brand strategy. The challenge is that no two brands are alike-- each brand is tailor-made to a practice's envisioned goals. If these goals are clear enough, with work, the rest will follow.
A brand strategy encompasses the entire image of your brand-- this is made up of the practice's aesthetic, all the way down to each and every interaction you and your staff has with your patients, be it potential patients or regular patients.
A brand strategy also encompasses how you direct your marketing campaigns and reputation management. This may also be inclusive of public relations (PR), which can attract more patients than advertising. Things like interviews, podcasts and contributing to skincare publications will definitely help boost your reach.
Utilise technology and digital marketing strategy for your marketing campaigns.
Nowadays, the virtual world is inescapable. Be it for work or for play, nearly everyone uses the internet on a daily basis. Websites are your primary storefront when promoting any practice online, and getting people to visit it and interact with it is the main challenge.
This is exactly why concepts such as social media marketing and search engine optimisation are a big deal when it comes to the world of digital marketing-- these marketing strategies push advertisements and promotions for goods and services tweaked to the users' liking.
Social media for dermatology practices
Since social media is simultaneously a personal and public space, many businesses go the extra mile and not only promote their products and services, but also interact with their fans and followers. Actively posting about your areas of expertise also help grab people's attention.
Search engine optimisation for dermatology clinics
Search engines are also constantly utilized tools, which means getting your brand's content on the very top of the first page of people's search results would mean more traffic for your website and more new patients, a likely goal of your marketing efforts.
Website design, branding and user experience
Of course, your very website's design and functionality must align with your branding. Consistent branding and exceptional user experience with every click-- all up to the point where they interact with one of your team -- is a huge part of what will attract and retain the patients you seek.
Marketing is an excellent tool that can bring any practice to new heights, especially once their brand has been fleshed out and worked on. Marketing, however, is not an overnight solution-- so much of it takes a lot of experience-building and trial and error, especially as a marketing newbie. To add to that, marketing is a long-term solution meant to be constantly refined, maybe even changed completely, from time to time… things that, perhaps, dermatological experts and staff have little to no time for.
After all, it is more productive and efficient when specialists stick to what they specialise in-- so while you focus on your practice, why not call in a team of reliable marketing experts to help manage the digital marketing aspect of your dermatology practice?
Here at Local MD, our experts have years of experience. Our core mission is to help medical professionals and clinics thrive through their digital presence and their entire marketing strategy. Need a hand? Fill up our Project Enquiry Form or simply book an initial call with us today.