11 Local SEO Tips for Doctors and Medical Specialists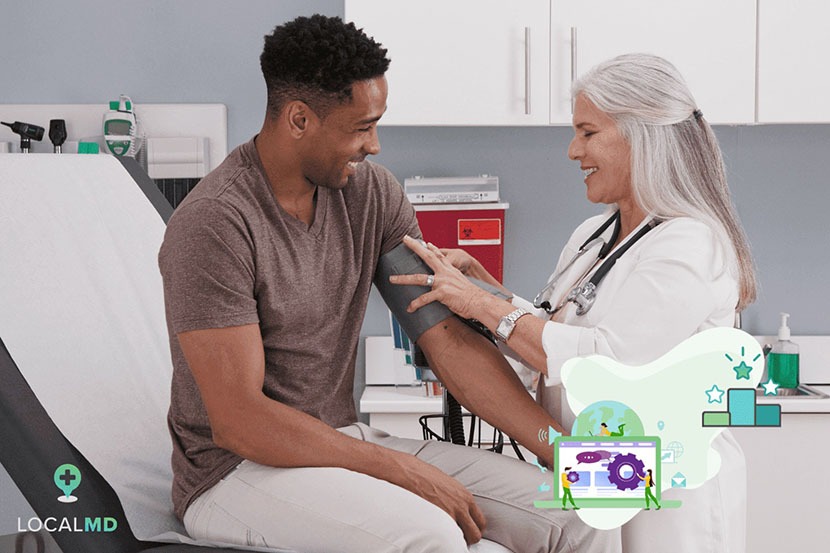 Discover how to get your practice found by local patients using Local SEO
Local SEO for doctors and medical practices is essential for owners and PM's wanting their practice, clinic or consulting rooms to be found easily by patients in their local area. And marketing to local patients can be a very effective strategy compared to wider marketing efforts.
According to a survey run by HotDoc, The top 3 traffic sources for medical clinics were word-of-mouth (33%), saw it on the street (22%), and Google (15%).
However, despite the clear potential that optimising a medical practice website for local search offers, many practices have still not taken action to harness this valuable source of website traffic, a channel which leads to new patient bookings.

The benefits of local SEO for doctors and medical specialists include:
Higher rankings for the treatments and services you offer
Increased website traffic
Reduced reliance on Google and Facebook ads
Increased market share
Reduce lost patients to competitors
Despite it being the most important local ranking factor, many medical practices still haven't optimised their Google My Business Listing and don't have a mobile friendly website.
If you want to get ahead of your competitors and make the most of local web searches, the time is now.
What would it mean to your practice to achieve a listing at the top of Google?
Some of the results we've witnessed as a result of a successful local SEO campaign:
More new patients
More visibility for the range of services you offer
More visibility for your most profitable services
A steadier flow of appointments
An increase in practice growth and revenue
By making local SEO a key part of your overall marketing strategy you can attract more patients from the local area, achieve more patient bookings and grow your practice.
This article covers the main steps you need to take to make sure your website is optimised for local SEO so you can start to dominate the local search listings.
What is Local SEO for Doctors? (and medical specialists)
Before reading on, it's worth taking a minute to understand what Local SEO is.
SEO or Search Engine Optimisation is the process of optimising your site to make it easy for web users to find when they search for a related keyword term in a search engine like Google.
Local SEO targets searches that have local intent – meaning that the searcher is looking for something located physically close to them in the local geographic area.
For example, someone typing in "dermatologist bondi" will most likely be looking for a dermatologist in the Bondi, Sydney area.
If you're based in Bondi, offer this service, and optimise your website well for this keyword and location, you might expect to get some traffic to your website from those searching for this term.
Not all local intent searches include a specific place name. Google is quite clever at figuring out local intent based on location indicators on the device being used to search, so it knows somebody searching on mobile for "dermatologist" is most likely looking for a specialist within a small radius of their current location.
Therefore it will tend to return listings for dermatologists in the local area.
So how do you optimise your online presence for these local intent searches and take advantage of the traffic they send?
That's where local SEO comes in.
1. GETTING READY FOR LOCAL SEO SUCCESS AND KEYWORD RESEARCH
Before you get started with applying specific local SEO techniques, it's vital to cover the basics you'll need to achieve good SEO results.
By their nature, local searches target physical locations, so you need to make sure you're targeting local areas where your business has a physical presence.
You also need to consider the area you serve and the level of demand and competition in your industry and city.
Some businesses will want to attract traffic from searches located anywhere in their city and the surrounding area, while others, in a large metro area for instance, will focus on an even smaller area such as a particular suburb or district.
If there's not a huge demand for the products or services you're offering in the immediate vicinity, you may want to target a wider audience such as the entire city, rather than just the suburb you're located in.
This might mean targeting terms such as "ENT specialist melbourne", rather than "ENT specialist northcote".
On the other hand, Google is putting more weight on local proximity, so depending on your patients, it may not be worth the effort of marketing to searchers in the wider area, particularly if you're competing with other businesses that may offer the same products or services at a closer distance.
Once you have a clear idea of your target market, you should do some keyword research to figure out exactly what your local customers are searching for.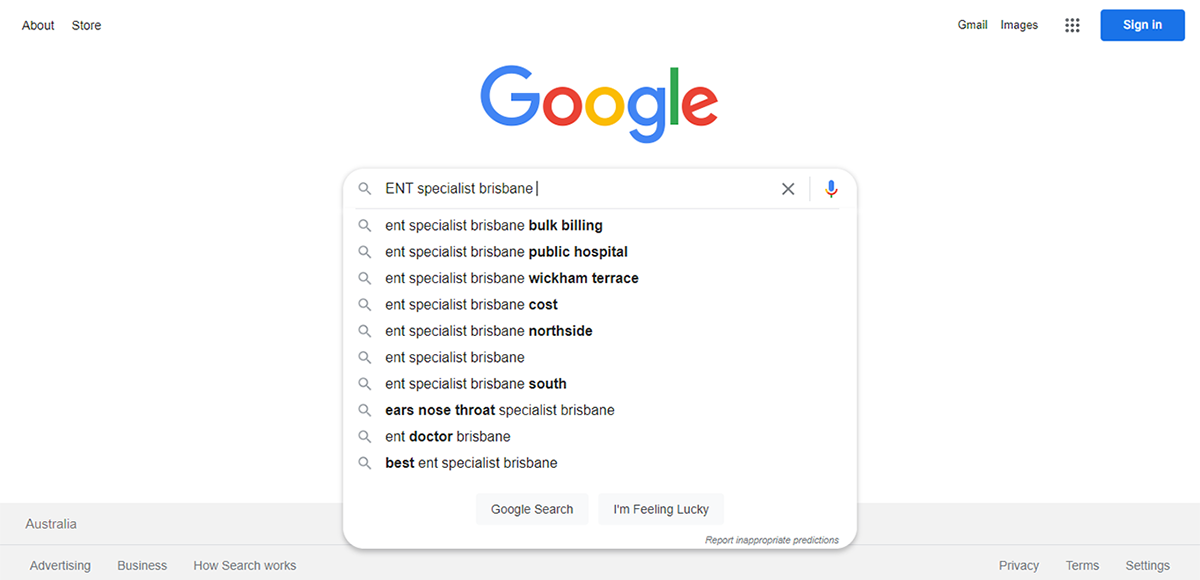 There are many different ways to approach keyword research, which go beyond the scope of this guide.
However, essentially you want to come up with a list of search terms with local intent for which you would like your business to come up on the first page in a Google search.
For example if you're an ENT specialist in Brisbane you might research terms like:
Brisbane ENT specialist
ENT specialist brisbane
ear nose throat specialist brisbane
otolaryngologist brisbane
And so on…
Once you've come up with a master list of keywords, you can analyse each term to see how much traffic each keyword gets (how many people search for that term each month) and what the level of competition is like. If there are many specialists offering the same services in the same local area that would typically be classed as a high level of competition.
You can then decide which keywords to target first.
2. NAP CONSISTENCY
Some of the vital aspects of achieving success with local SEO are very basic and simple. Things like keeping your name, address, and phone number (NAP) consistent across all your web properties is a simple yet highly effective starting point.
NAP citations are used in local directories, and Google and other search engines use these citations as a ranking factor to determine your business's authority in your local area.
Your NAP information should be displayed clearly on your homepage. In fact, your website footer is often the best place to show your main business address. If you have a multi-location business it's not a good idea to include all locations in the footer though as it can be confusing and this is where a multi-location SEO strategy becomes critical in your success.

If these details match those in local directories and niche directories, the search engines will know that both your site and the directory listing are referring to the same business and are more likely to return your business in the local search results.
If there are inconsistencies, perhaps because you've moved business location and haven't updated your address everywhere yet, Google may struggle to understand that the two listings refer to the same business which in a sense dilutes your online presence.
It's therefore vital to make sure all your NAP information is kept up to date and consistent everywhere on the web if possible.
There are various tools you can use, such as Moz Local and Bright Local to search for your business and make sure all your NAP citations are correct.
3. GEO-TARGETED LANDING PAGES AND BLOG POSTS
A landing page is a page on your site that's been built specifically for a targeted group of web visitors.
If you're targeting multiple locations, such as a number of different cities, you can achieve better rankings in the search engines by creating a series of geo-targeted landing pages that are each optimised for certain location-based terms.
However, you must take care to ensure that every page of content is completely unique and not just a copy of the same text with a different city inserted in the blanks.
Google's Hummingbird algorithm update penalised sites that duplicated content in this way and updates since have continued to reward good quality content that serves the searcher and penalises low-quality content that exists for keyword purposes only.
For this reason, when you're creating your landing pages you must think about how best you can serve the patients that you're targeting in that location and what sort of information they're looking for.
Your business blog is another place where you can include keyword-optimised content, and publishing high-quality content on a regular basis is a great way to improve both your general and local SEO.
Something else to be aware of is these pages perform much better when you have an actual physical presence in the city you are targeting.
4. ON-PAGE OPTIMISATION AND META TAGS
Before considering links and citations for local SEO, you must make sure your own site is properly structured and optimised so that search engines can read it properly.
This means using appropriate headings, including keywords, making sure your URLs are simple and well-structured and include keywords, and including your suburb, city, and sometimes your state in the meta title and description tags.
As well as being helpful for SEO, these tags provide a preview of your site for the user in the search listings, so they're more likely to click through if you've written a compelling description and it's clear that your business will meet their needs and is located in the local area.
Title tags are one of the most important components of on-page optimisation and having the right title tags on your home page and core service pages can be the difference your website showing up in the most relevant searches or not appearing at all.
Want to know how to transform your digital presence?
Get insights now with our comprehensive Digital Presence Scorecard for Medical Practices.
5. MEDICAL AND LOCAL DIRECTORY LISTINGS AND CITATIONS
Adding your site to business directories used to be an effective way of getting more links to your site for SEO purposes.
The power of these links has been devalued although they're still a local SEO ranking factor and an important component of your presence in the local search ecosystem.
Many SEO experts agree that having good quality and accurate citations (listings in local directories) is vital for local SEO.
Google checks these listings to verify that the NAP data it has for your business is correct, and the more high-quality citations you have, the more authority your business appears to have in your industry and geographical area.
Entering your business into online directories can be tedious, but it's worth making the effort to have a fully completed listing.
Make sure you have a well-written description, a full list of services and include extra information such as opening hours, accepted payments, a logo and photos when the option is available.
Be sure your practice is listed in these local directories and maps: Google My Business, Bing Places, AppleMaps, TrueLocal, Yellow Pages, Yelp
And here's some quality medical directories to add your listing to: Healthshare, Healthdirect and Healthpages.wiki
You may find your practice already has a listing on some of these directories and the information may be incomplete or out of date. In this case, be sure to update it.
6. OPTIMISE YOUR GOOGLE MY BUSINESS LISTING
Google My Business is a special listing or 'profile' for your business that is shown in search results when patients search for your business name or click through from a list of suggested businesses after conducting a local search or via Google Maps.
Your Google My Business listing includes useful information about your business such as your address, telephone number, opening hours, photos, and reviews.  If you want to attract local searches, you must have a Google My Business profile and spend time to make sure this information is always kept up to date.
According to Whitespark, Google My Business signals are the most important local search ranking factor, so it's definitely worth taking the time to optimise your listing, aiming for 100% profile completion.
Having a Google My Business Listing also encourages customers to leave reviews. When you receive a steady flow of mostly positive reviews, this further increases confidence in your practice brand and is helpful for SEO.
Also, Google My Business have released a GMB app for Apple and Android which makes it really easy to monitor and update your listing. If you plan to manage your GMB listing yourself and not outsource this, the GMB app is a great tool for this.
7.  GOOGLE MY BUSINESS CATEGORIES
When you create your Google My Business listing you can choose up to ten categories to list your business in and you should take the time to choose the relevant categories for your business to optimise for local SEO and bring more targeted traffic to your site.
Categories help users to find more accurate results for what they're looking for, so you should choose the categories that most closely align with the main services that your business offers.
This makes it really easy for Google to see that the categories chosen are a good fit for your product or service offering.
If you're not sure which categories to choose, you can look at the listings of your competitors to see which category they have chosen.
Also, be aware Google can and most likely will, spontaneously change your business categories at some point in time.
Google obtains data for Google My Business listings from a range of sources (not just from business owners) to keep in line with its philosophy of always providing the most relevant information to users.
If you choose a category that is not truly representative of your business, expect it to be removed at a later date.
8. IMPLEMENT A REVIEW ACQUISITION STRATEGY
Positive reviews can have a huge impact on your practice and are a critical ranking signal for local SEO, too.
Reviews can also help to turn search traffic and views of your business listing into click-throughs to your website, and can encourage prospective patients to progress from 'just looking' to booking an appointment.
Think about your own decision making process when searching for a local service provider.
Do you look at the reviews of a businesses you are considering contacting?
Would a 4 to 5 star review rating make a business seem more favourable to you than one with 2 or 3 stars?
93% of online shoppers say that their buying decisions are influenced by reviews and 84% say they trust online reviews as much as personal recommendations from friends and family.
For these reasons, a major part of your overall marketing strategy should be focused around acquiring as many positive reviews as possible.
The best way to get great reviews is to provide a great service, with that in mind, patient experience should be a top priority.
HotDoc Reviews
If you're a HotDoc customer, HotDoc Reviews is a helpful tool you can turn on to generate reviews on tap.
Unfortunately research suggests patients who have a bad experience will feel more compelled to leave a negative review than those who have a positive experience. So by asking all patients for a review (about non clinical aspects of their experience) you are helping to stack the odds in your favour.
Is it okay to ask for reviews if you're a medical practice?
We understand not every practice is comfortable asking for reviews and here is our general advice:
It is okay to encourage and manage reviews for your medical clinic
It is okay to request a review via SMS, email if you have the patient's permission to contact them in this way
It's not okay to filter or gate reviews, which means only asking patients to leave a review if they have already confirmed they've had a positive experience
It is not okay to use patient reviews in advertising when they mention a clinical aspect of their experience.
it's always best to defer to the advice of your practice lawyer or insurer if unsure.
9. LOCAL BUSINESS STRUCTURED DATA MARKUP
Structured data is a way of providing information about your business in the code of your website that Google and other search engines can display directly in the search listings page.
Also known as Schema markup, this code is the language of search engines.
Many answers to search queries tend to be shown within the search results now, completely removing the need to click through to get information from a website.
These are referred to as 'rich results'.
You will have seen a 'rich result' before when searching for information about a business, this page on the Google Developers website shares many examples.
It's particularly important for medical practices to use this markup so that important details are displayed on your listing when relevant to the search.
10. MAINTAIN AN EFFECTIVE SOCIAL MEDIA PRESENCE
You can also set up social media profiles like Facebook and Instagram and share information on these social media networks to improve your local SEO and brand presence.
Social channels can be an effective way to stay in touch with your local customers, share details of upcoming events or health clinics, public holiday closures, share practice news and introduce new doctors, specialists, nurses, allied health practitioners and reception team members.
Your social media accounts are another place you can publish content that includes location-specific keywords, which provide further signals to search engines that you have a presence in your targeted local area.
LinkedIn is another platform your practice can benefit from having a presence on. Individual doctors, specialists and surgeons may have a personal listing to build their professional network and practices can create an individual company listing.
You can share news and updates on LinkedIn similarly to Facebook. When we create branded Google Posts for clients often they share these on Facebook and LinkedIn.
11. COMBINING ONLINE AND OFFLINE MARKETING TECHNIQUES
While your online marketing strategy is important, you shouldn't abandon offline marketing efforts.
Local networking and relationship building are also important for growing your brand presence locally and can help with your online strategy by attracting organic links to your site from other local businesses. Sponsoring a local community event, non-profit organisation or sports team can get your clinic's name out in the community.
Communicating with your patients in the real world will also help you to learn more about them so you can serve them better.
Encourage your patients to follow you on social media, sign up to your mailing list, leave a review, or recommend your business to a friend. This helps to build patient loyalty and steadily grow your patient base over time.
Read our Medical Marketing Guide for more medical marketing tips.
SUMMARY
There are so many ingredients that go into an effective local SEO strategy and it can be tricky juggling all the pieces.
If you feel a bit lost or simply don't have the time or resources to invest in SEO, you could consider hiring a local SEO team who can plan and carry out an effective strategy that will result in your practice website bringing in more traffic from local searches, and turning more website visitors into patient bookings.
Now over to you
Can you see how Local SEO could benefit your business? But does the thought of implementing it yourself make you feel overwhelmed? If you'd like to learn more about how we can help, we'd love to hear from you.
Want to know how to transform your digital presence?
Get insights now with our comprehensive Digital Presence Scorecard for Medical Practices.
Local SEO for Doctors FAQs:
SEO helps healthcare organisations such as medical practices, hospitals and allied health providers appear higher on Google when their target audience (patients from the local area) search online for topics related to the healthcare business.
SEO is an abbreviation for search engine optimisation and medical SEO refers to the process of improving your medical website's search engine rankings. Every day, patients search on Google for a range of keywords that relate to your business and medical SEO is the strategy that helps your medical website appear higher up in the rankings, without paying for ads.
Patients search online to gather information related to all aspects of their lives, healthcare included. SEO is important for healthcare professionals as it helps the patients who need their help be able to find them. SEO helps patients find healthcare information relevant to their needs to inform their healthcare journey and choose the right healthcare practitioner for their unique situation.